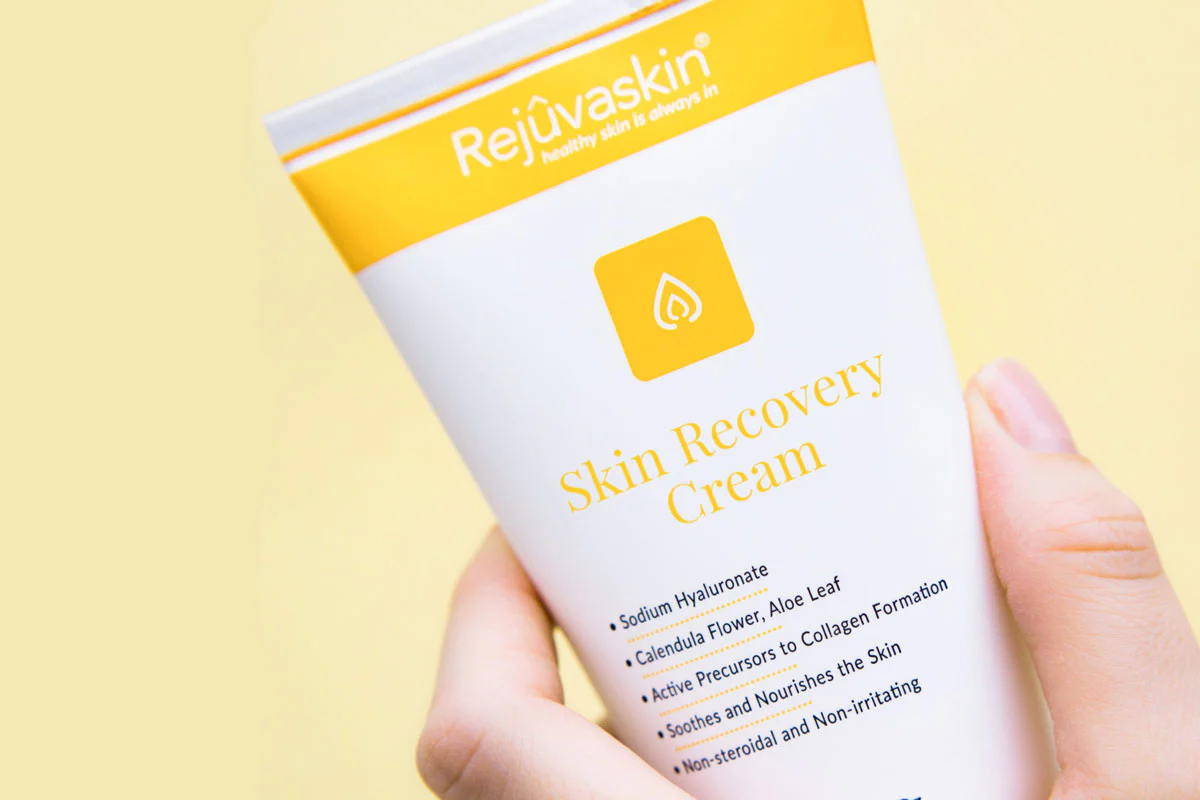 Product Testimonial: Using Rejûvaskin Skin Recovery Cream During Radiation Treatment
At Scintera, we really do care about skin health. With each new product, we look for opportunities to improve overall skin health. Our Skin Recovery Cream is no exception to this rule. We know how tough radiation can be on your skin. The Skin Recovery Cream was developed after hearing from cancer centers that they were in need of a radiation recovery cream. Patients were requesting breaks in treatment due to skin irritation. As a skin healing company, we felt it was our responsibility to create a product that allowed each patient to follow the radiation treatment as scheduled.
We have enjoyed reading the stories from nurses and patients all around the country that have used Rejûvaskin Skin Recovery Cream with incredible results. Some patients began using it before symptoms appeared in an effort to navigate through treatment with no skin issues. Others have been prompted to use the cream after side effects have appeared. In all cases, the feedback has been overwhelmingly positive. It's great to hear that so many people have had great results from using our Skin Recovery Cream. We want to share a few of these stories to help encourage you to prioritize your skin health.
Rejûvaskin's Skin Recovery Cream Testimonials
"I had a patient who had a lumpectomy and received 26 radiation treatments. That patient just finished treatment and had zero redness with Rejûvaskin Skin Recovery Cream. I really loved it and the texture is amazing. We have another moisturizer that drags across the skin, this just simply glides!" – Laura M.
"I have Laryngeal Cancer. Using Rejûvaskin Skin Recovery Cream goes on smooth, with a soothing action, seems like it takes the redness out. It's quickly absorbed in skin. Over all I am very satisfied with the product." – David L.
"I started Rejûvaskin Skin Recovery Cream on the first day I started my treatments. I'm now starting my fifth week, and I'm having no issues with my skin hurting. I'm a little pink from the radiation, but I've been putting Skin Recovery Cream on 4 times a day. It's so smooth and easy to apply. I love the smell of it. I would recommend this product to anyone who is having radiation treatments. It's very soothing on the skin." – Stacy H.
"My radiation started on October 29th. I started by using the aloe vera gel from a tree planted in our yard. It slightly cools down the burning sensation of the area that receives radiation. I spoke to the nurse at St. Francis hospital, that was when she gave me Rejûvaskin Skin Recovery Cream. The burning stopped completely and it was very soothing. I can assure you that this cream is the answer to help all patients who have suffered burns and irritation due to radiation. Thanks, Skin Recovery Cream." – J. Garcia
Your skin health is essential. Whether you are going through radiation treatment, getting ready to deliver a baby via C-section, undergoing a cosmetic procedure, or you simply want your skin to look and feel the way it used to, it's important to consider your next step for healthy skin. All of the products we make at Rejûvaskin are meant to help you take care of it.