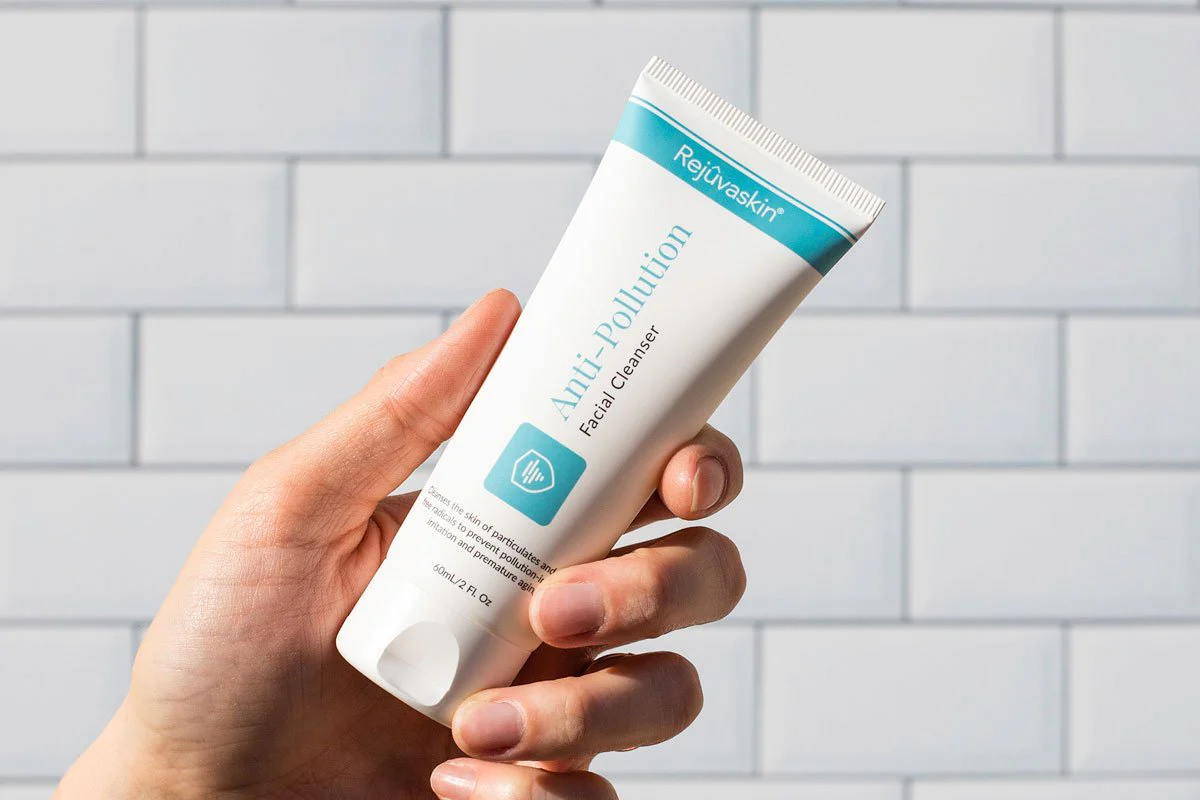 What's Inside Rejuvaskin's Anti-Pollution Cleanser?
Your skin is the main barrier between the outside world and the inside of your body, so it's exposed to most external factors you encounter every day, one of them being harmful pollution. Pollution is a combination of man-made and natural chemicals that find their way onto and into our skin and can cause issues to our health and our skin. Luckily for your skin, Rejuvaskin has created an all-new anti-pollution cleanser that works to fight the effects of pollution on your skin.
Right now you might be wondering, "what makes a skincare product 'anti-pollution'?" The main purpose of an anti-pollution cleanser is to fight particulate matter found in the atmosphere. According to the Environmental Protection Agency (EPA), particulate matter, also known as particle pollution or PM, is a mixture of small particles in a range of sizes and liquid droplets made up of nitrates and sulfates, organic chemical, metals, soil, and dust particles. Here's a look at the key pollution-fighting ingredients that make up our Anti-Pollution Cleanser and an explanation on how each of them help protect your skin from particulate matter.
Alteromonas Ferment Extract
This is an exopolysaccharide found in French Polynesia which grows in deep sea waters and is now used in skincare products because of how it works to form a barrier around your skin to fight particulate matter in the atmosphere. There is research on this ingredient that specifies that it can also repair the skin's surface.
Sodium C14-16 Olefin Sulfonate
This is a cleansing element taken from coconuts that aggressively removes all build-up on your face from throughout the day. It also helps give the anti-pollution cleanser a lovely foamy texture that feels great on the skin. It is safe for use in skincare products and mixes well with water to remove dirt, oils, and pollutants so they can be rinsed away.
Cymbopogon Flexus Oil
This ingredient is a lemongrass essential oil that gives the cleanser a nice and natural fragrance while also providing anti-inflammatory, antioxidant, anti-bacterial and anti-fungal properties. Lemongrass essential oil is also stimulating and revitalizing for the skin and the senses. Lemongrass essential oil can even work as an insect repellant!
Aloe Vera
Aloe Vera is a common skincare ingredient that helps soothe and hydrate the skin. Aloe vera is a form of succulent plant which offers many benefits and is suited for all skin types, especially dry, damaged, broken, sensitive and irritated skin. It offers anti-inflammatory, antimicrobial, antioxidant, humectant and soothing, anti-itch qualities for skin.
Rejuvaskin's Anti-Pollution cleanser is one of the best anti-pollution cleansers on the market, composed of powerful ingredients that have been proven to fight the effects of pollution on the skin. Try it today.